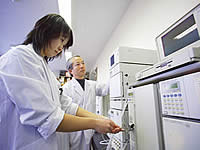 Students of the Department of Biological Chemistry and Food Sciences acquire basic knowledge from a chemical perspective, which is essential to understanding the characteristics of life phenomena and food materials, as well as experimental techniques.Using this acquired basic knowledge, the students will then learn how microbial, animal and plant resources may be used effectively.
The students also study how to apply the biological functions of these resources. Students learn the advanced utilization of microorganisms and enzymes, development of food with health benefits or protective function against lifestyle diseases, and the development and application of new food processing technologies.
The goal of these courses is to develop researchers and engineers who will create high-function health foods, as well as future leaders in the food industry and other bio-industries.
Capacity of Annual Admission:40
Another Department Links