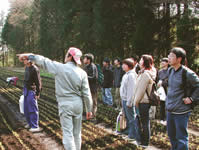 The Department of Environmental Sciences for Sustainability provides its students with opportunities to study how to realize sustainable communities in which the natural environment and the social activities of people can successfully co-exist.
The students learn how to develop and improve productive infrastructures and environment for agriculture and forestry, how to preserve the ecological systems of rural areas, how to build communities that uphold their history and culture.
To that end, the department offers classes covering a wide range of fields developed from the comprehensive perspective of society, life and resource management. For the students who wish to learn practical skills in specialized fields, the department offers the Engineering in Forest Science Course and the irrigation Engineering and Environmental Management Course.
For those students who wish to gain a greater or wider range of knowledge in the study of the ways humans may co-exist with the natural environment according to their goals, the department offers the Resource Management for Nature and Humanlife Course.
Out of these 3 courses, Engineering in Forest Science Course aims at attaining accreditation from the Japan Accreditation Board of Engineering Education (JABEE).
Capacity of Annual Admission:55
Another Department Links